Shhh... PR School has the secret to creating national buzz + a cult-like following for you and your brand.
Dreaming of being featured in Real Simple? Envisioning your products on the Today Show? Want to be THE go-to expert in your field with a cult-like following of customers?
For most entrepreneurs, PR can be scary and daunting. We've heard it all: Where do I start? Do I really have a story? How do I pitch it and to whom? How do I manage my PR efforts and organize it all? How do I become a national expert? How do I turn press hits into sales?
YES, you have a story. YES, your story is an editor's GOLD. And YES, you, too, can learn what other successful businesses know about getting featured in the press!
Successful entrepreneur, Angela Jia Kim, and former Oprah Magazine editor, Rachel Hofstetter, along with their inner circle of handpicked crème de la crème major editors, will teach you an organized A to Z formula to get PR and social media buzz — so you build a cult-like following of people who buy your products and services!
Real PR School Students' Press Results:
The PR School press hits keep piling up: Real Simple, The Today Show, Travel & Leisure, Forbes, Dr. Oz The Good Life, TEDx, InStyle, O, the Oprah Magazine, and so much more!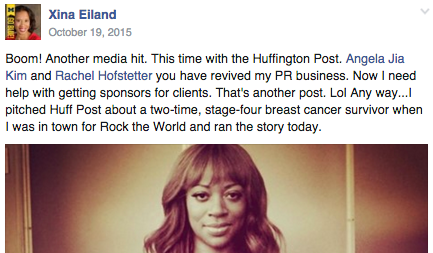 WHAT YOU GET IN PR SCHOOL!
The PR Foundation
Editors WANT to feature you and often say, "If only they would tweak this or that, we would feature them in a heartbeat!" Learn the PR foundation that will transform you and your business – the "Give Give Get" secret of PR!
Create the PR Plan
Learn how editors choose their features behind closed doors and how to get on top of the "YES" pile, understand their editorial schedule, know who and what to pitch, and use social media to increase influence.

Perfect Your Brand
Become THE go-to expert… Whether you're selling products or expertise, you'll learn how to be press-ready, build credibility, and give great quotes. Plus, you'll learn how to use social media to build your brand and following.
The Pitch
Learn how to answer press inquiries and craft your own stories to pitch. You'll learn to think like an editor and come up with attention-grabbing headlines. Plus: get a swipe file of pitches and email templates!

The Follow-Up
Everything you need to know after you've made contact: how to follow up, how to become the media darling, and how to set up meetings. Plus: you'll get the #PRSchool Tracker to help you manage your press outreach.
"James Bond" PR
Master your hook! We'll teach you how to throw an exciting event that gets everyone buzzing, wow editors, get social media buzz, and reach them through unexpected "James Bond" influencer campaigns
Lifetime Access + Community
Once you're in, you're IN. Get lifetime access to the school's courses and go at your own pace – wherever you are!
Savor Membership
Get an automatic 2-month Premium Membership from PR School's sister company, Savor the Success, where you get daily PR opportunities for our Editors!
Trackers + Templates
Get easy breezy email templates on how to pitch and follow up… along with a PR tracker to plug-and-play for your PR campaigns.
What Real People Are Saying About PR School
"The insider secrets and training are incredible, the community is filled with people at the top of their game, and the Editor-Mentor call is AMAZING!!!"
—Tracy Lee Jones, Business coach
"How can I thank you?! Not only was your PR School fabulous, and I was featured today on Buzzfeed. You and your school are terrific! For me, the results speak for themselves."
—Charles Danziger, cartoonist
"A year and half later after completing PR School... it continues to pay off! Lovely to wake up and find that your business is featured in InStyle Magazine, named one of 5 Skin-Care Companies Doing Really Big Things."
—Holly Green, Norabloom Botanicals & Beauty Lounge
"I've done so many online courses, and I can honestly say that PR School is by far the BEST experience I've had. I feel like I've walked away with REAL actionable material for the next 9 months!"
—Jessica Rust, Rust Designs
"Even as someone who works in the PR field all day, I found the sessions a refreshing perspective on how we can tell more unique, meaningful stories."
—Danielle Winslow, PR + Marketing at Chipotle Mexican Grill
"PR School was so worth the investment as a PR Firm... it was so helpful to have my junior team learn these concepts and hear everything from another perspective (that wasn't just me saying it over and over!). Our team watched each class in our conference room together, where we put it up on the big TV screen."
—Laura Baddish, CEO, The Baddish Group
"Shout out to PR School for inspiring me to go, go, go! I wrapped an awesome shoot for Lifetime's new interior design talk show, The Way Home. I had two of my own segments. Then, last minute, their other expert got sick, and they had me do her segment, too! It was such a blast."
—Betsy Helmuth, Affordable Interior Design
Frequently Asked Questions... Answered!
What if I can't afford PR School? If you look at the long-term value for your business, it's a steal compared to a PR firm (usually $3000-10,000 a month!) or a magazine ad, which easily runs $50,000. You'll learn how to land features, get credibility, and increase sales.
Can I join even if I have a PR firm? At PR School, we love PR Firms and publicists—in fact, we work with them all the time. But if you're going to invest thousands of dollars in a PR firm, you're throwing money out the window unless you know what you're doing. In fact, even publicists have learned new insider strategies at PR School!
What if I am not ready for PR? PR School has techniques for every level, including how to get high-impact local press if you're just starting out. Whether you're a mature company or have yet to launch your first product, you'll learn how to become THE expert or brand every editor wants to feature and interview.
Do I have to be a founder or entrepreneur? Not at all! PR School is valuable for everyone from marketers to in-house publicists and anyone who wants to create a high-impact, cult-like following for a brand or product.
Entrepreneurs: Product AND Service Businesses
Whether you have a brick-and-mortar store, a product line, a coaching service, or a lifestyle brand, Savor PR School will teach you how to curate your black book of hot press connections and garner buzz that lands you clients!
Small Businesses with In-House PR
Do you have an in-house PR department team doing the company's publicity campaigns? They could be making costly mistakes that no one knows about! Increase your ROI by making sure they are fully trained to land more PR for the company.
PR Firms that Want In-House Training to Stay on Top
Want to deliver more value to your clients by landing more press hits? Need to train your employees or interns so that you can free your time to run your firm? Send them to PR School!
PR School comes with our 100% LOVE Guarantee. If you do ALL homework assignments and still aren't feeling the love, within 30 days from start of school, you get your money back (minus the $200 admin fee).
PR SCHOOL IS A DIVISION OF SAVOR THE SUCCESS, LLC.